Buy Giant Balloons for your marketing needs!
Buy giant balloons for instant increase in traffic and sales. 1-800-791-1445. USA manufacturer of giant helium balloons.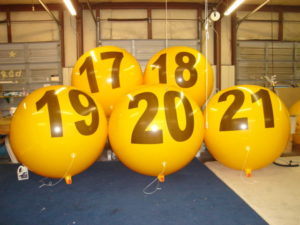 Email:Info@BuyGiantBalloons.com
Call 1-800-791-1445 for more information on large advertising balloons.
We manufacture balloons made of polyurethane, not PVC. Polyurethane is the best material commercially available for helium advertising balloons. Polyurethane weighs much less than PVC, retains color much better and keeps its color much better. Balloons made on polyurethane will save you money each time you use them. The balloons or blimps will lose approximately 1/3 the amount of helium that a balloon or blimp made of PVC will lose each day. You will save money each time you fill your polyurethane balloon or blimp because PVC products have to have much more volume so they will float. Also, because the balloon or blimp is much lighter, yet stronger, than a ball or blimp made of PVC it will fly much better. So, there are the facts on why you should purchase a balloon or blimp made of polyurethane and not PVC. However, all decisions are emotional until a decision is actually made. So, please look at some of our beautiful balloons and think of how you will save money, which you can use for something else, each time you use one of our products.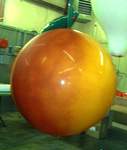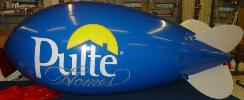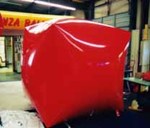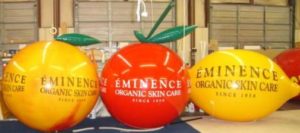 Call 1-800-791-1445 for giant helium balloons.
Giant advertising balloons are great for Sales, Promotions, Events and Trade Shows. Balloons and blimps are very affordable and easy to use and best of all, they work. Balloons, blimps and custom helium inflatables are also long lasting when used and cared for properly.
Email: Info@BuyGiantBalloons.com for more information on where to buy giant balloons.
Call 1-800-791-1445 for large helium balloons and promotional blimps.
Save
Save